The guide to inbound marketing for manufacturing Change is the order of the day. Macro forces are combining to place intense pressure on organizations and entire industries. The manufacturing sector is no exception – most notably, the Fourth Industrial Revolution (and all that it entails) is looming large. Additionally, there is a growing demand for customized product, and an increased pressure to get products to market faster – while simultaneously staying one step ahead of the competition.Against this backdrop, the way that customers interact with manufacturing companies (and, indeed,all companies) is also changing. To remain relevant in today's uncertain environment, it's vital to ensure that you can effectively reach the people that matter most to your business.However, conventional sales and marketing simply don't work like they used to – a new approach is required.In this eBook, we will explore the disruption that is occurring both in manufacturing and marketing and sales. We will look at the value of an inbound marketing approach in navigating this new environment. And we will consider what this looks like in practice for manufacturers.
2 THE GUIDE TO INBOUND MARKETING FOR MANUFACTURINGEQUINETMEDIA.COM
The manufacturing industry is being disrupted on a colossal scale. One of the biggest drivers of change is the Fourth Industrial Revolution,otherwise known as Industry 4.0, which is "characterised by a fusion of technologies that is blurring the lines between the physical, digital,and biological spheres" (Klaus Schwab, World Economic Forum).
3 THE GUIDE TO INBOUND MARKETING FOR MANUFACTURINGEQUINETMEDIA.COM
Writing for McKinsey & Company, Cornelius Baur and Domink Wee identify four separate strands of disruption, which are driving Industry 4.0:
1.2.BIG DATAADVANCED ANALYTICS
3.4.HUMAN-MACHINEDIGITAL-TO-PHYSICALINTERFACESTRANSFER (3D PRINTING)
At the same time, manufacturers are facing global competition on a larger scale. There is an increased pressure to get products to market faster and a growing demand for more customized products – all while maintaining a sustainable and ethical operation.Disruption brings with it opportunity and there are lots of forward-thinking, innovative manufacturers making excellent products. They're successfully implementing Six Sigma and lean manufacturing (and Lean Six Sigma), embracing industrial automation, and seeking to be more ethically responsible. But – and it's a big but – they're still struggling to sell their products.According to the Office for National Statistics (ONS), the value of UK manufacturers' product sales reached £364.6 billion in 2015, a 0.2 per cent increase on the 2014 estimate of £363.9 billion. However, the rate of growth was the slowest since the 2008 to 2009 economic downturn.To survive and thrive in this challenging landscape, manufacturers are finding that they must operate with more intent than ever before and digital must form the backbone of their organizations, as they move to create "smart" factories. In the white paper, "The Rise of Smart Operations: Reaching New Levels of Operational Excellence", UPS states: "Today, digital transformation is at the centre of manufacturing business strategies. As one executive from a tier 1 automotive supplier put it: 'We are no longer an automotive company, but a technology company in the automotive business.'"
4 THE GUIDE TO INBOUND MARKETING FOR MANUFACTURINGEQUINETMEDIA.COM
The role ofmeasurement inmanufacturing As a manufacturer, you measure everything, right?
5 THE GUIDE TO INBOUND MARKETING FOR MANUFACTURINGEQUINETMEDIA.COM
Research carried out by LNS Research and MESA (Manufacturing Enterprise Solutions Association) identified 28 manufacturing metrics that are the mostutilised by discrete, process, and hybrid/batch manufacturers.These included:On-time delivery Manufacturing Through put to commit cycle time WIP inventory/ turns Number of non-Rate of new product compliance events/ year introduction Net operating profit Energy cost per unit EBITDA
6 THE GUIDE TO INBOUND MARKETING FOR MANUFACTURINGEQUINETMEDIA.COM
You understand that measuring your processes and systems is vital to the success of your manufacturing operation – enabling you to meet the needs of your customers. And you may have implemented practices, such as 5S, to reduce waste and further streamline your procedures. And yet, you might not be measuring your marketing.Historically, manufacturing companies have been "sales-led" operations. They rely on referrals and repeat business and it's not uncommon for some manufacturing companies to view marketing as little more than the "colouring-in department". And this view may not be entire lyun founded if they have had negative experiences in the past.However, as we have explored, the manufacturing industry is in flux – and these changes are also affecting the sales and marketing function, where traditional processes don't have as much leverage as they once did. Cold-calling, print advertising, unsolicited email blasts: these, and other practices, are all tactics that are becoming less and less effective. You are likely finding that your return on investment isn't what it once was.Today, more and more business is conducted online and, to put it simply, no one wants to talk to your sales team – at least, not to start with. The power has passed into the hands of buyers, who want to ensure they are informed and educated about their needs before they speak to a salesperson. In fact, according to a survey carried out by Forrester, 74 per cent of B2B buyers conduct more than half of their research online before making an offline purchase.In the guide, "Manufacturing Revenue Growth: How to Sell Successfully in a World that Buys",Ed Marsh and Todd Hockenberry suggest that this shift obliges two major changes:
1. Stop selling – transition to helping buyers buy
2. Deliberately focus on helping the right buyers to buy
Among the best ways to achieve these changes successfully are to have a strong online presence and to be offering high quality content, both of which will help you to be found by your prospective customers. Even if trade shows play an important role in your organization acquiring new business, the people you meet will still likely go away and research your company online. What they find makes all the difference.
7 THE GUIDE TO INBOUND MARKETING FOR MANUFACTURINGEQUINETMEDIA.COM
From blog posts to eBooks, website copy to emails, good content forms the foundation of the type of marketing required in today'senvironment. Through content, prospective buyers can educate themselves about your organisation and products, before speaking to a salesperson.
8 THE GUIDE TO INBOUND MARKETING FOR MANUFACTURINGEQUINETMEDIA.COM
According to research published by the Content Marketing Institute (CMI) in February 2016, 81 per cent of manufacturing marketers use content marketing. However, just 18 per cent say their organizations are effective at content marketing – down from 26 per cent in 2015.Harvard Business School professor Theodore Levitt famously said: "People don't want to buy a quarter-inch drill. They want a quarter-inch hole." His point was that successful marketing is dependent on tuning into what your customers really want, rather than extolling the virtues of your products or services.Yet, many manufacturers continue to find it difficult to marry their products with their customers' needs This isn't an indictment; rather, it is indicative of the nature of the industry.Most manufacturers have a very long and complex sales cycle and many don't sell their products directly – and these factors can leave them feeling disconnected from the end customer. The right kind of content can help to bridge the gap. Content forms the link between you and your future customers. Through it, you can inform, educate, build trust and, ultimately,prove why you are better than your competitors; why you are the best choice.In her book, eMarketing Strategies for the Complex Sale, Ardath Albee says: "Trusted relationships are the prerequisite for complex purchase decisions. With buyers staying elusive longer,creating an eMarketing strategy to reach, attract, and engage them through digital content and communications is one of the most important ways you can help to build that trust. In return,your marketing programmes will generate higher levels of qualified demand predisposed to purchase from your company."Albee also says: "With each positive interaction, their trust in your company will grow. Trusted advisors are much more valuable to prospects than vendors. People buy commodities from vendors. They buy expertise and outcomes from trusted advisors – which means higher and more profitable revenues. And they rely on them long term for continued success. Engagement is a critical component of gaining trust, and that trust is a prerequisite for purchasing decisions."This concept of buying expertise and outcomes is embodied in the servitisation model, which was made famous by Rolls-Royce through their pioneering approach, "Power-by-the-Hour".According to this model, Rolls-Royce customers buy the power provided by an aeroplaneengine, rather than the engine per se. This reflects the fact that it is the power in which the valuelies – it is the power that fulfils a customer's need for planes that fly safely and consistently.While most manufacturers will see the benefits in this kind of an approach, they may still find it challenging to implement it in practice. So, what to do?
9 THE GUIDE TO INBOUND MARKETING FOR MANUFACTURINGEQUINETMEDIA.COM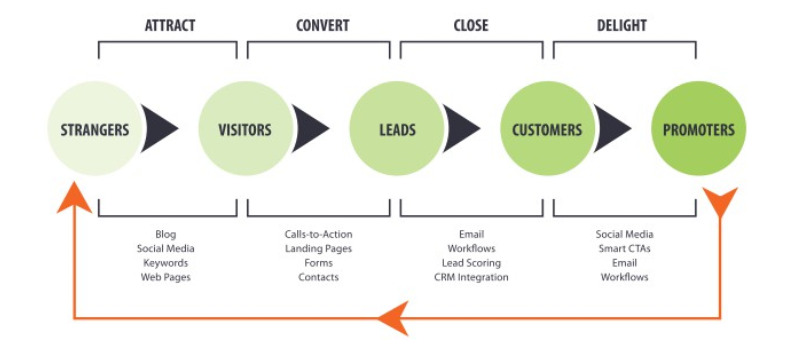 The inbound approach to marketing for manufacturing For ten years, inbound has proved the most effective method of doing business online. It focuses on creating quality content that pulls people to your company and products or services by generating interest and demand.Educative and valuable content will attract the right people to your website and show them why you are the best fit for them.
10 THE GUIDE TO INBOUND MARKETING FOR MANUFACTURINGEQUINETMEDIA.COM
Your content should speak to people at each stage of their buyer's journey and provide relevant information that answers their questions and addresses their concerns. For instance, someone who is just beginning to research a topic, in which your organization is an expert, will be looking for content that will help them to gain a deeper understanding. Whereas a person who has converted to a lead will be looking for content that focuses more on specific facets of your business and how you differ from your competitors.In this way, an inbound approach enables you to convert visitors to leads, close these leads to customers, and then delight those customers over time. So, it's a perfect fit for the longer sales cycles typically associated with manufacturing. Inbound keeps you top of mind with prospects until the time is right for them to contact you – on "their" terms.And, because it's online, inbound marketing is entirely measurable. You can see how many people are viewing your content, how many leads you are acquiring, and how many customers you are winning – ultimately, you can assess what's working and what's not, then do more of the former, and fix the latter.The inbound methodology Let's consider how inbound marketing works in more detail. This is the inbound methodology, which HubSpot describes as "the best way to turn strangers into customers and promoters of your business".Along the top of the infographic above are the four actions required to get visitors, leads, customers,and promoters. Along the bottom are the tools, or tactics, you can use to accomplish these outcomes.However, several tools, like email, can be utilised in multiple stages of the methodology.
11 THE GUIDE TO INBOUND MARKETING FOR MANUFACTURINGEQUINETMEDIA.COM
1. Attract Potential customers won't do business with your organization if they don't know you exist – they need to be aware of you in the first place. Your website and attendant blog form the foundation of this process. Through optimising your website pages and blog posts using keywords that your target audience are searching for, you can improve your chances of being found online. Anactive, helpful presence on social media is another key component of the awareness stage.
2. Convert The next step is to convert your website visitors to leads. You can include call-to-action (CTA)buttons on your site pages and in your blog posts, offering visitors further useful content – suchas an eBook, whitepaper, or the like – in exchange for their contact details. When a visitor clickson a CTA button, they will be taken to a landing page, where they can download the content offer in return for filling out a form.
3. Close The third part of the inbound methodology focuses on nurturing your newly-acquired leads and guiding them to become customers. Using marketing automation software, you can monitor a prospective customer's activity and use these insights to engage with them intelligently and purposefully with contextually relevant content and experiences.
4. Delight The work is not over once you have won new customers. After all, happy customers are your best advocates. To delight your customers, you need to engage with them on social media,continue to be helpful, and support them with content that informs and adds value for them.
12 THE GUIDE TO INBOUND MARKETING FOR MANUFACTURINGEQUINETMEDIA.COM
How do you plan and implement an inbound strategy? This seven-step guide provides a road map to guide you on your way.
13 THE GUIDE TO INBOUND MARKETING FOR MANUFACTURINGEQUINETMEDIA.COM
1. Benchmark and audit your capabilities – know where you are coming from Before you can delineate your strategy, you first need to know where you stand today. You can achieve this by carrying out a full audit of your set-up, leaving no stone unturned. Questions to answer might include:•How much traffic do you attract to your website each month?•How many leads and sales do you generate?•What is the impact of your current online assets on these outcomes?If you already have a blog and other content assets, you might determine what keywords you are ranking for and look for gaps and opportunities in your content library.It's a good idea to document your findings and share them with relevant members of your team, to ensure everyone is on the same page. Having established a baseline, you can then more accurately measure your future progress.
2. Map your goals – know where you are goingWithout a clear destination, it can be hard to plot a route with confidence. To achieve success, youneed to agree SMART goals – that is, specific, measurable, attainable, relevant and time-based goals.An example of a smart goal might be: "Increase the number of leads by 50 per cent from 600 – 900between July and December this year." Or: "Generate £3 million of new income in the new tax year."These objectives will be used to inform your strategy and the subsequent tactics you employ toachieve them. For instance, using the second example above, you could work back from that revenuetarget to establish the best path to achieving it. By understanding current metrics – like averagesales value, close rate, the number of leads generated and website traffic – you could determine howincreases in each of those areas would impact the revenue generated.
3. Define your buyer personas – resonate with your customers To create the best possible content that will resonate with prospects, you first need to define your buyer personas. Buyer personas are integral to everything you create as a content marketer. They represent the people that you want to connect with; without them, you are essentially creating content blind. Therefore, it's important to take the time to define your personas in detail.Buyer personas are semi-fictional representations of your ideal customers: what drives them;how they proceed on their buyer's journey; what a successful purchase looks like to them. They incorporate likes, dislikes, habits, and behaviours, as well as motivations, concerns, where they spend time online, and more.A good rule of thumb is to identify two or three personas that best represent your current prospects and customers – as well as those people that you feel would benefit from doing business with you.However, it's important to be realistic when it comes to the latter – sometimes the people you think you want to connect with in the future may not be the right fit for your business.Your personas should guide every element of your B2B content marketing; they should always be atthe forefront of your mind. Each time you create a blog post, eBook, podcast or the like, you should be thinking about how you can connect with those people represented by your personas.
14 THE GUIDE TO INBOUND MARKETING FOR MANUFACTURINGEQUINETMEDIA.COM
4. Develop your brand – refine your "core proposition" and "reasons to believe"Your brand should focus your content and message on what's important to your customers. There's a lot of content online, so you want to take steps to stand out from the crowd and capture attention.Refining your core proposition and reasons to believe can ensure you don't fall into the trap of simply focusing on the features of your products or services. Your core proposition should get right to the heart of what you do as a business and need only be a single sentence – clear and to-the-point. Your reasons to believe should then encompass factors that prove your core proposition – what does your company do, in a tangible sense, to support its reason for being?A good tip is to capture your core proposition and reasons to believe and share this document among your team. You can then work to ensure that your marketing efforts reinforce your organization's message and goals.
5. Draw up a content plan – develop editorial synopses and a content matrix Once you know who you are targeting and the topics you need to address, it's time to come up with your content marketing plan. This involves working out exactly what content you are going to create and when. For instance, you might commit to two blog posts a week and six eBooks a year.It's also important to decide who will be responsible for creating this content – you may be surprised to find that your company has more budding content writers than you might think! For instance,an employee that works in the sales department will have an acute understanding of the kinds of questions that customers ask again and again. Each of these questions could be answered in detail within a blog post. Alternatively, you might choose to work with freelancers or to partner with acontent marketing agency, whose expertise can help you to achieve great results.Whichever route you decide to go down, it's best practice to document your plan in full and to circulate it to all relevant team members. This ensures that everyone is clear on the objectives and how these will be achieved.15 THE GUIDE TO INBOUND MARKETING FOR MANUFACTURINGEQUINETMEDIA.COM
6. Carry out a website analysis and review – maximise your primary marketing asset Your website is often the first point of contact between you and your future customers. Therefore, it's vital that it makes a good impression. As a core asset, your website should be lovingly nurtured, with constant and consistent updates, enhancements and innovation.Retuning to "Manufacturing Revenue Growth: How to Sell Successfully in a World that Buys", EdMarsh and Todd Hockenberry say: "The term 'website' as it's often understood is semantically misleading. Today a website is the beating heart of a vast digital circulatory system. To be effectiveit must constantly beat, circulating information not only through the veins which you control,but throughout distant capillaries that reach the 95 per cent. And it must do so in a way that automatically addresses the needs of buyers, and be optimised so that the search engines properly understand and convey the value you provide."In an increasingly distracted online world, user experience is the key to success. If people can clearly understand who you are and what you do; if you serve up contextually relevant content based on the profile of each visitor; if your website is optimized for search, easy to navigate and uses images creatively and intelligently; and if you have a blog, you are far more likely to demonstrate that your organization is the one to pay attention to.
7. Review and develop your sales process – a new approach to inbound sales Historically, there has been little alignment between sales and marketing, resulting in a disgruntled marketing team wondering why sales aren't closing the leads they provide, and a sales team bemoaning the quality of leads that marketing are generating.However, now that power has shifted from sales to the buyer, it's vital to develop a sales process that responds to this situation. That process is inbound sales, which is similar to inbound marketing- transitioning prospects through the stages of awareness, consideration, and decision, all the while working to support the buyer rather than the seller.Throughout this process, an alignment between marketing and sales is key. Marketing need to be creating relevant content for sales at every stage, to drive prospects through the sales funnel and close them as customers.
Identify Connect Explore Advise Strangers Leads Qualified Leads Opportunities Customers Awareness Consideration Decision
16 THE GUIDE TO INBOUND MARKETING FOR MANUFACTURINGEQUINETMEDIA.COM
CONCLUSION Disruption is a constant across industries today – and manufacturing is no exception. As manufacturers flex and adapt to meet Industry 4.0 head on,they are also having to adopt a new approach to sales and marketing. Today,power has moved from the seller to the buyer and manufacturers must use marketing tactics that suit this new environment.Initially, this can be daunting – but that's where inbound comes into its own. Inbound uses content to draw potential customers to you, rather than you competing for their attention in an increasingly competitive environment. It puts the focus on the buyer, addressing their needs and concerns and answering their questions, while, at the same time, showing how your organization and products are the solution that they require.Implementing an inbound strategy can help you to reach more of the right people, on their terms. It can create a clear structure for your marketing efforts, which is more than fit for purpose in today's environment.