So you've realized that your old traditional and digital marketing business tactics just weren't working, and you've taken steps to get your inbound marketing program off the ground. Great! To refresh, inbound marketing focuses on creating educational content that pulls people toward your industrial website.
Now what?
Well, now comes the hard part — you'll need to create content that your prospects actually want to read. Don't panic. While this can seem like a big undertaking, understanding the inbound marketing funnel can make this process a lot more manageable — not to mention a lot more effective. Let's take a look.
What Is The Inbound Marketing Funnel?
If you've worked in sales or marketing for any appreciable length of time, chances are you are familiar with the concept of funnels. There are traditional sales funnels, acquisition funnels, and funnel cakes (sorry, just wanted to see if you were paying attention).
Inbound marketing has a funnel of its own, and while it can vary due to factors such as pricing, your competitive landscape, and business model, it can generally be broken out into three distinct phases — education, evaluation and conversion.
These phases align with the way today's buyers make their purchase decisions: First, they research their challenges or explore an opportunity (education); then, they begin investigating different options (evaluation); and, finally, they choose a company to do business with (conversion). A fourth stage (delight) occurs after buyers make their purchases, when it's time for you to keep them happy.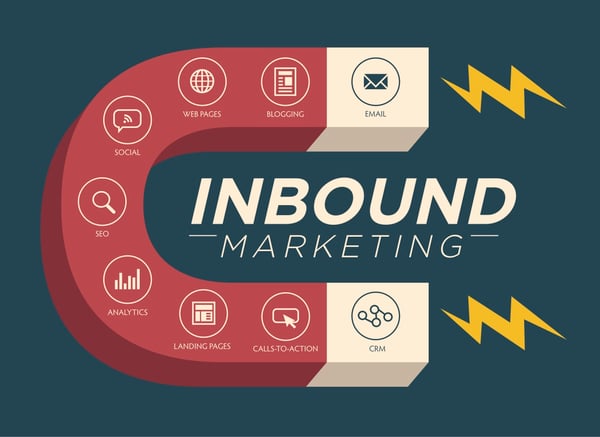 A comprehensive, successful inbound marketing program must include content that meets the needs of people at all three stages — helping buyers at the top of the funnel move to the middle, shift those in the middle to the bottom, and turn prospects at the bottom into customers.
With that in mind, here are some content marketing examples you can use to connect with potential buyers across all stages of the funnel.
Top Of Funnel Content Ideas
The top of the funnel is where you begin to establish a rapport with the visitors who have landed on your site, hopefully by way of organic SEO and smart PPC and SEM programs. They're likely searching for high-level information about specific products and services, need answers to questions, or want a possible fix to a problem that they're experiencing.
You want to provide helpful content to as many of these people as possible, enticing them to fill out a form (and become part of your contact universe) as a result. Here are some content ideas to utilize:
1. Educational blog posts
Blog posts are the most common form of content marketing, but different posts can serve different purposes. For buyers at the top of the funnel, you want to provide educational content that distills complex concepts into useful insight. This post from The Rodon Group about the injection molding process is a great example, providing helpful, expert-level information in a very accessible way.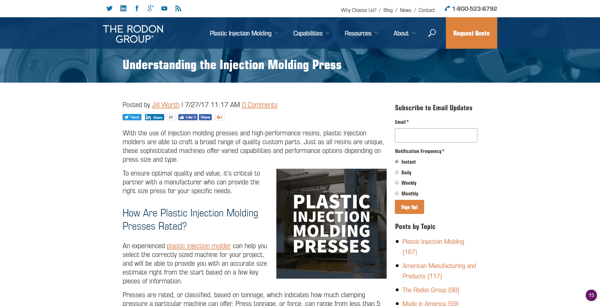 2. 101 eBooks
If you want to tackle a topic in more depth than a typical blog post can afford and capture visitor information in the process, an introductory eBook can be a great tool. Test Devices Inc., a rotational testing systems and services provider, does this successfully with their Spin Testing For Manufacturing 101 eBook. They provide an in-depth but easy-to-understand look into the capabilities, processes and benefits of spin testing that would prove helpful to anyone investigating the topic.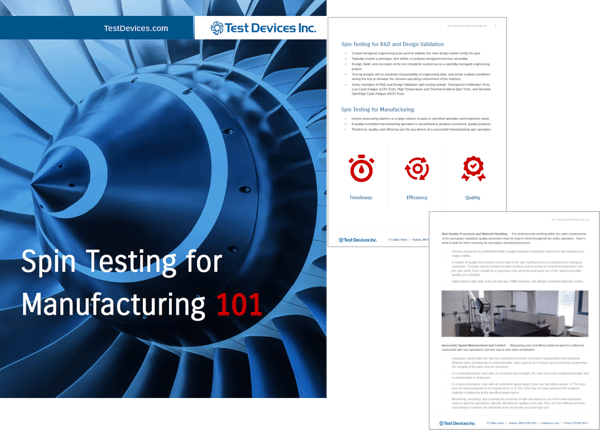 3. Industry research
The products and services you offer aren't the only things that your potential customers are concerned with; they have other priorities and projects on their plates as well. Providing insight beyond your capabilities can position you as a really valuable partner — and industry reports are especially powerful in this regard.
The 2017 Automotive Manufacturing Report from CGR Products, a custom cutting and fabricating services provider, provides the industry insight that resonates with potential partners while steering clear of self promotion. It's also packaged in a visually rich and engaging format, which makes it even better.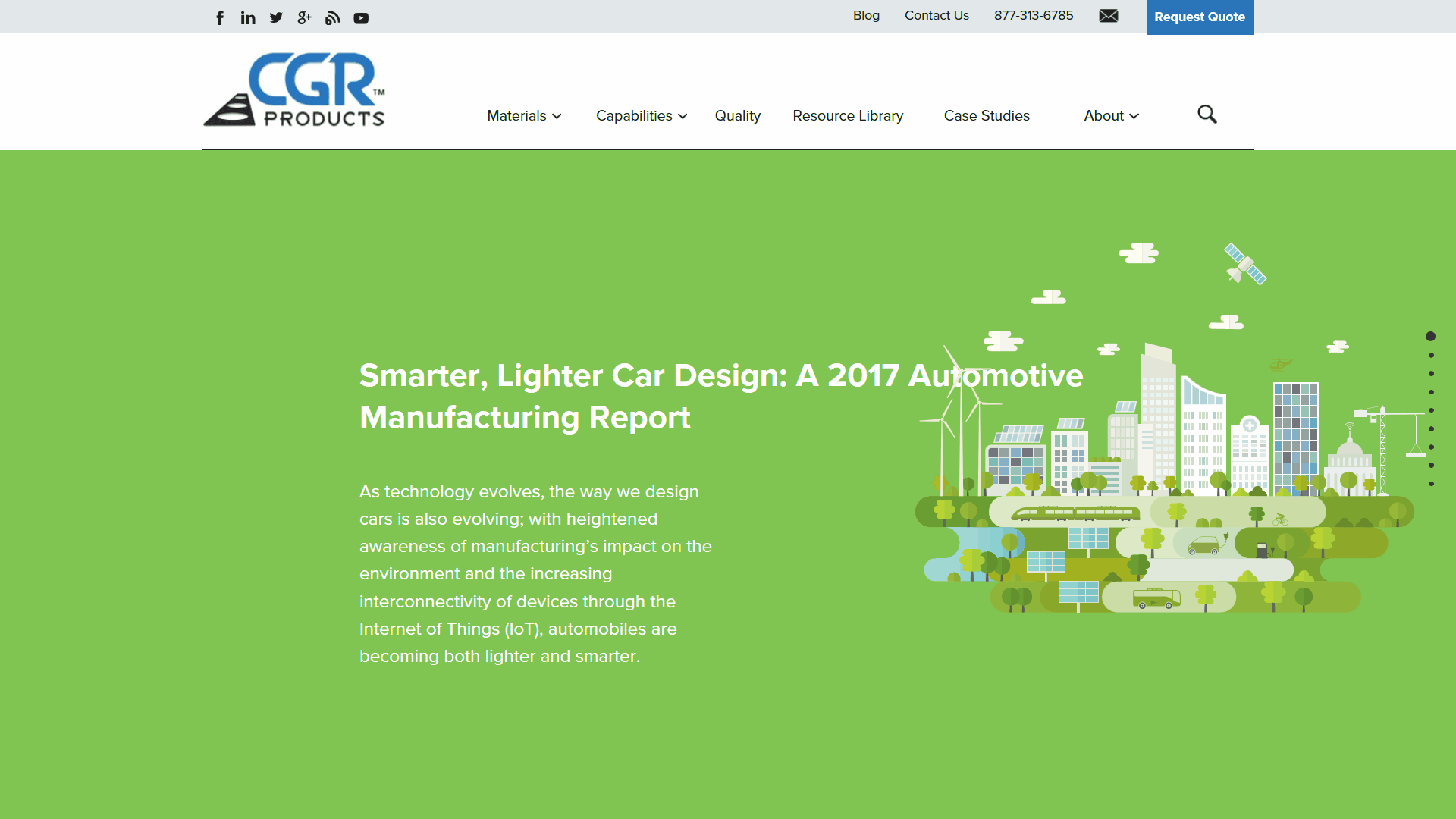 Middle Of Funnel Content Ideas
While the top of the funnel is the widest (there are more people at the top of the funnel, after all), the middle of the funnel is often the deepest. That's because the evaluation phase typically takes the longest to progress through, especially for B2B buyers.
This is your chance to really build on your initial relationship, establish trust, and start to showcase what separates you from your competitors with a variety of content. Remember, however, that you don't want your content to read like advertisements — still focus on providing helpful information.
4. Comparison guides
Buyers have many different options, and they may not know which one is right for them. Help set the record straight with a comparison guide that spells out the pros and cons of different approaches.
Thread rolling manufacturer CJWinter dives into the differences between thread rolling and thread cutting in their guide. They explore each method's impact on costs, lead times and quality in order to help buyers choose the right tactic for their specific applications.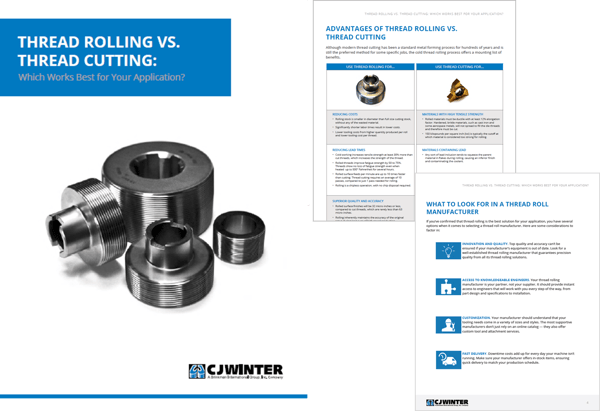 5. Case studies
One of the best ways to win new customers is to show how you've helped your existing ones. A robust case study library highlighting your track record of success can be tremendously helpful in this regard.
ESI, a custom metal stamping company, does a wonderful job with their case study library. Not only do they show their work, they also point out the different industries and applications that they serve.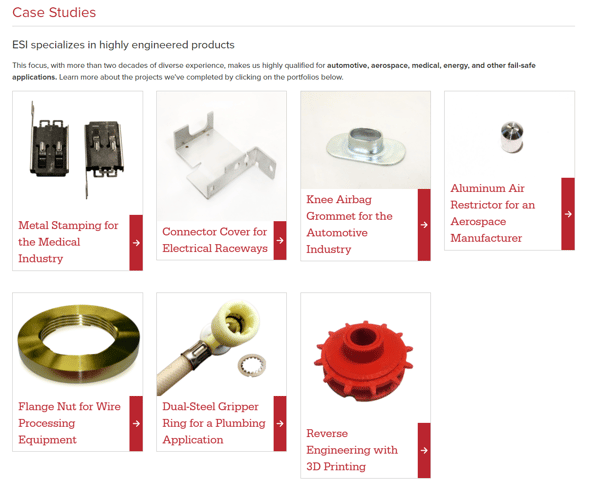 6. Buyer's Guides
As buyers edge closer to the bottom of the funnel, they start formalizing the process for selecting a supplier. Help them define and optimize this process and guide them in the right direction with a step-by-step buying guide.
For example, American Crane offers four buyer's guides to help prospective buyers of electric overhead cranes select the right equipment for them. These guides not only include information on different products, but also on best practices established by an industry trade group.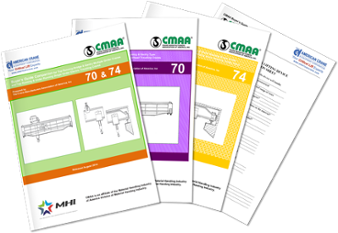 Bottom Of Funnel Content Ideas
This is it, it's your chance to close the deal and convert your leads into customers. It's OK to get a little more promotional, but still focus on the benefits you can provide to buyers.
7. Product videos
Videos have become an increasingly critical component in the content marketing arsenal. In fact, videos now account for about 74% of all online traffic today.
You don't need a big production budget or a professional studio to make an engaging video. Companies like Parathermhave leveraged our Product Promotion Bundle to create engaging, informative and helpful product videos.
8. Spec sheets and brochures
At this point, buyers want to know exactly what you're capable of. Specification sheets and brochures focused on your products and services are therefore critically important.
Mattei, a maker of compressors for commercial, industrial, OEM and transit applications, has detailed brochures and specification sheets for their different product lines, and it's all organized in an easy-to-access and easy-to-navigate portfolio on their website.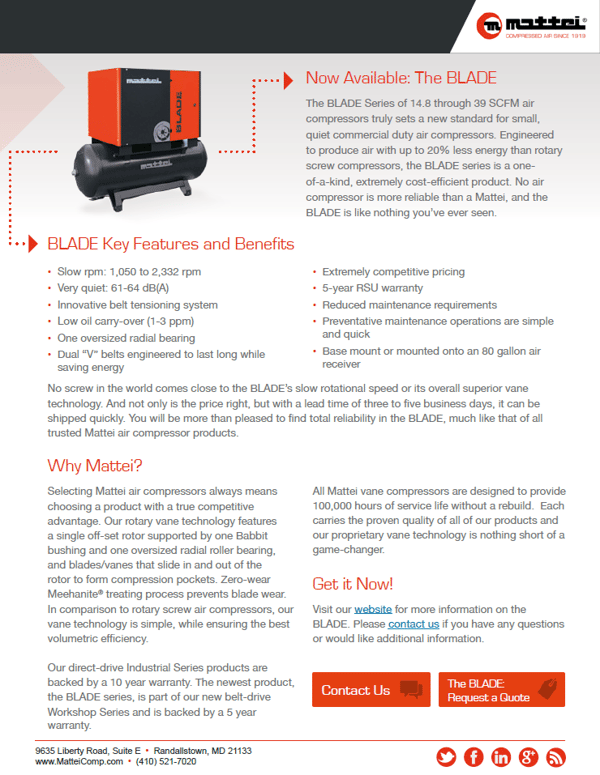 Compressed Air Systems, who is also a supplier in the compressed air space, has a similar layout to their site as well.
Need help with your content marketing?
We hope that these great examples of content marketing from fellow manufacturing companies provide you with the inspiration you need to create your own awesome content.
However, we understand that you already have a ton on your plate, and becoming a professional writer, designer and marketer probably isn't at the top of your to do list (or the middle, or the bottom, for that matter). Thomas can partner with you for your industrial content marketing needs so you can focus on what you do best.
We've partnered with hundreds of industrial companies to develop inbound marketing programs that produce great content and, more importantly, generate new business opportunities. Contact us to learn how we can help you do the same.